In Search of Atha Allen Jackson and Descendants
Atha Allen Jackson, born 30 April 1896, Mingo Township, Sampson County, NC. Died 31 May 1965, Veterans Hospital, Los Angeles, CA.
Atha Allen Jackson, son of Sampson David Jackson, Sr. and Louphemia Barefoot Jackson, was born on 30 April 1896 in Mingo Township, Sampson County, North Carolina. His dad died about a week before Christmas in 1912. At age twenty-one, on 1 August 1917, Atha entered active service in the US Armed Forces and was shipped out to Europe. He was discharged on 2 February 1919 and returned home to Clinton, NC. It is rumored that Atha had a difficult time adjusting to life at home after having experienced trench warfare. Perhaps he had been traumatized by the horrors of war, or maybe he was dazzled by the life in Paris or other large European cities. We do not know for sure what happened, but the story goes that Atha apparently asked his mother for money to purchase a car and she was unable to offer him the money. He then disappeared, only to contact the family twice more.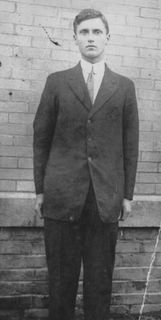 Atha Allen Jackson in his World War I uniform.
In 1920, the US Census, Richmond, VA lists Atha A. Jackson 22, boarder, in a boarding house with head of household listed as Alice W. Lovett. He was an insurance salesman. Later in the 1920s, Atha was hospitalized in Chicago. A nurse who attended him wrote to our family to tell them that Atha was in the hospital with influenza, and that he was expected to recover.
My mom's brother David Stone Jackson, Sr. told us that Atha had called home twice after his departure and both times he asked for money and was refused. In the 1930's, the veterans of World War I were offered a pension, and the family applied to the Pension office for Atha's pension to find out where he was living, if indeed he was still alive. They were told that he was living, and that they could not reveal his address to the family because of privacy issues.
So, it seemed that Atha was lost to the family forever. My mom used to talk about how my granddad, Carlisle Jackson, Sr., searched throughout his life for his brother. When Carlisle died in 1961, he had not found his brother.
One night, about 8 years ago, I had called my mom and she mentioned Atha in the course of conversation. I decided to see what I could find by doing a search on my computer. Within 2 hours, I had found "Uncle" Atha's California death record. After searching for additional information about him, here is what we now know:
Atha died in Los Angeles, CA on 31 May 1965 of a myocardial infarction and related heart damage. He was buried in the Veteran's Memorial Cemetery, Los Angeles, CA, Section 99, Grave no. 4, Row S, 950 S. Sepulveda Blvd., Los Angeles, CA 90049, (310) 268-4675 on 4 June 1965. According to his death certificate, he was a typewriter repairman, and was married to a woman named Luella. She was an insurance sales person. Atha's social security number was 568-24-4972. His burial was handled by Gates, Kingsley and Gates Funeral Home in Los Angeles. He had lived at 1820 ½ Winona Boulevard in Los Angeles. He died at the Veteran's Administration Hospital at Wilshire and Sawtelle Blvds., in West Los Angeles.
California Death Certificate for Atha Allen Jackson:
Double click on the image to enlarge it.
Despite having access to all of this information, we are unable to determine if Atha had any descendants who might be alive today. The funeral home claims that the Northridge earthquake destroyed their records and that even if they did happen to have those records, they could not release them to anyone who could not prove they are "next-of-kin".
If you are a Jackson or a descendant of a Jackson from Los Angeles, California whose family settled there from North Carolina, please contact me by leaving a message here.
Safe journeys!
Categories: genealogy Atha+Allen+Jackson Clinton North+Carolina Los+Angeles California World+War+I veteran