Three Generations of my Maternal Line
Happy 80th Birthday Mama Lou!
Emily Bertie "Bertha" Stone Jackson, mother of Emily Lou Jackson Hudson.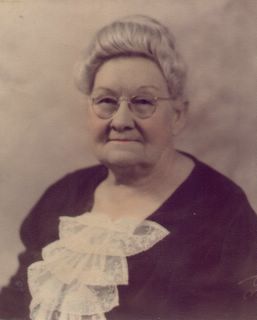 Louzettie Barnes Stone, mother of Emily Bertie "Bertha" Stone Jackson.
As I sit here this morning waiting for the nausea from my pills to wear off, I am thinking of getting my clothes and dog supplies packed up for a trip down to Wilmington for the weekend to see my mom. We will be celebrating her 80th birthday tomorrow, hopefully starting out with a UNC-Chapel Hill Tar Heels men's basketball victory in the first round of the NCAA tournament. Mom and I are huge fans of the Tar Heels and talk after every game to make sure neither of us has had heart failure if the game was a close one. A victory by this year's team would be a perfect start for her birthday. Tomorrow evening, we will be going out to dinner in Wilmington with my siblings and my niece and nephew and his partner.
I am thinking it is high time to introduce you to my mom and her line of people. Here are 3 generations of the maternal line of my family.
In the first photo, you will see Louzettie Barnes Stone, (11 April 1867 - 3 September 1944). She was married to Wingfield Scott Stone, the man who had married her sister Lizzie Barnes. Lizzie had taken ill during her first pregnancy, recovered to have a son and then became pregnant again despite warnings from her doctor that she could not bear any more children. Lizzie soon fell deathly ill and Louzettie was brought in to care for her sister, her brother-in-law and their child. The emphasis on "caring" got a little out of hand, and soon Louzettie found herself expecting a child of her own by Scott Stone. Then Lizzie had her daughter and recovered, but then died very soon afterward. Louzettie took over as the matriarch of the family.
The first daughter of Louzettie Barnes Stone and Scott Stone was Emily Bertie "Bertha" Stone (17 December 1892 - 12 February 1969). Bertha Stone came to Delway, NC around 1910 to attend the Baptist Boarding School that would later serve as home and place of business for my dad and mom. After she graduated from the Baptist Boarding School for Teachers, she was sent to the Mingo Township of Sampson County to serve as a teacher. There she met my grandfather, Carlisle Jackson and married him.
My mom was born on 18 March 1925. I could not have been more fortunate to have such a character as my mom. She is funny, irreverent and very accepting and loving. It is so nice to be able to have a genuine relationship with her and not to feel I have to hide who I am from her.
Happy Birthday MOM!
There are 2 additional generations of strong women in my family, my sister and my niece, but I will wait to share stories about them later. This is Mom's day!
Categories: memories genealogy mom